LITTLE MERMAID Pattern #8 Ursula Adhesive Vinyl or HTV Heat Transfer Vinyl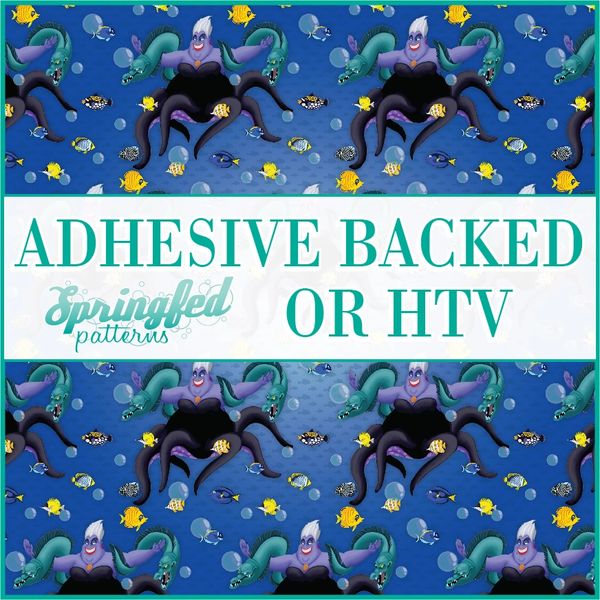 LITTLE MERMAID Pattern #8 Ursula Adhesive Vinyl or HTV Heat Transfer Vinyl
LITTLE MERMAID Pattern Craft Vinyl
All our patterns are now available in both HTV and Adhesive Backed Vinyl. 
Adhesive Backed Sheet sizes available:
6 Inch x 6 Inch (3 Sheets)
12 Inch x 12 Inch (1 Sheet)
12 Inch x 12 Inch (3 Sheets)
12 Inch x 48 Inch (1 Sheet)
All patterns are professionally printed on white adhesive vinyl.
Weatherfast with permanent adhesive backing.
Can be cut easily with scissors, knife or vinyl cutter!
This is high quality weatherproof vinyl.
Perfect for almost any application! Glass, Plastic, Metal and More! 
Great for Scrapbooking or Crafting too!
HTV Sheet Sizes: 12"x14", 12"x36" or 12" x 5 yd Roll
This great Custom Heat Transfer Vinyl will make your next project stand out!
This Opaque White HTV gives your next project that extra punch!
This is a High Quality Industry Grade HTV for Your Own Custom Shirts and Cloth! You won't find this HTV anywhere else! We manufacture our patterns in house, right here in the USA! We offer ALL our patterns in HTV and love special requests and ideas! Don't see the design you're looking for? Just ask! We can do almost anything! Can be carefully cut and easily weeded with the leading vinyl cutters available today. Cuts easily with a knife, scissors and craft punches! This is high quality professional industry grade heat transfer vinyl. ADHERES TO: COTTON, POLYESTER, ACRYLIC and Similar Fabrics.
As this is Specialty Material, please refer to the Application Instructions Image for Details! Please refer to Application Instructions for Specifics. Bulk pricing is available. Contact us for details. *Please Note: Due to different monitor color settings, colors shown may not be exact. 
Browse our store for More Great Patterns and Colors!
Works well with any Leading Vinyl Cutter!
Available in a variety of sizes.